Oil demand is relatively inelastic. That's a fancy-schmancy economic term that means people and firms' energy demand doesn't vary very much from day-to-day or even year-to-year. Driving to work is perhaps the most accessible example. You do it every work day. If you don't, you don't work. And so you drive. Your gasoline demand is stable. Inelastic. Doesn't matter much if gasoline sells for $1 or $4.
 
On the price side, this means the "normal" rules of supply and demand barely apply. Even minor shifts in supply or demand have wildly outsized impacts on price. We're used to seeing this as a shortage. China booms and oil prices go up. Iran and Iraq go to war and prices go up. Derivatives trading enters the world of oil and prices go up.
 
But such lopsided impacts also work the other way. In 1991 when it became apparent that the first Gulf War would be a cakewalk and threats to oil supplies were not going to manifest, prices collapsed. They did so again at the beginning of the 2007 subprime real estate crisis after being on a multi-year tear.
 
And now coronavirus is introducing the greatest shift in oil pricing in history. Based on who is making the guess (because no one really has good data yet), coronavirus-instigated quarantines have reduced global oil demand by somewhere between 15 million and 35 million barrels per day out of a pre-crisis level of 100 million. Global prices have plunged to as low as $20 a barrel thus far, and they have (a lot) further to go.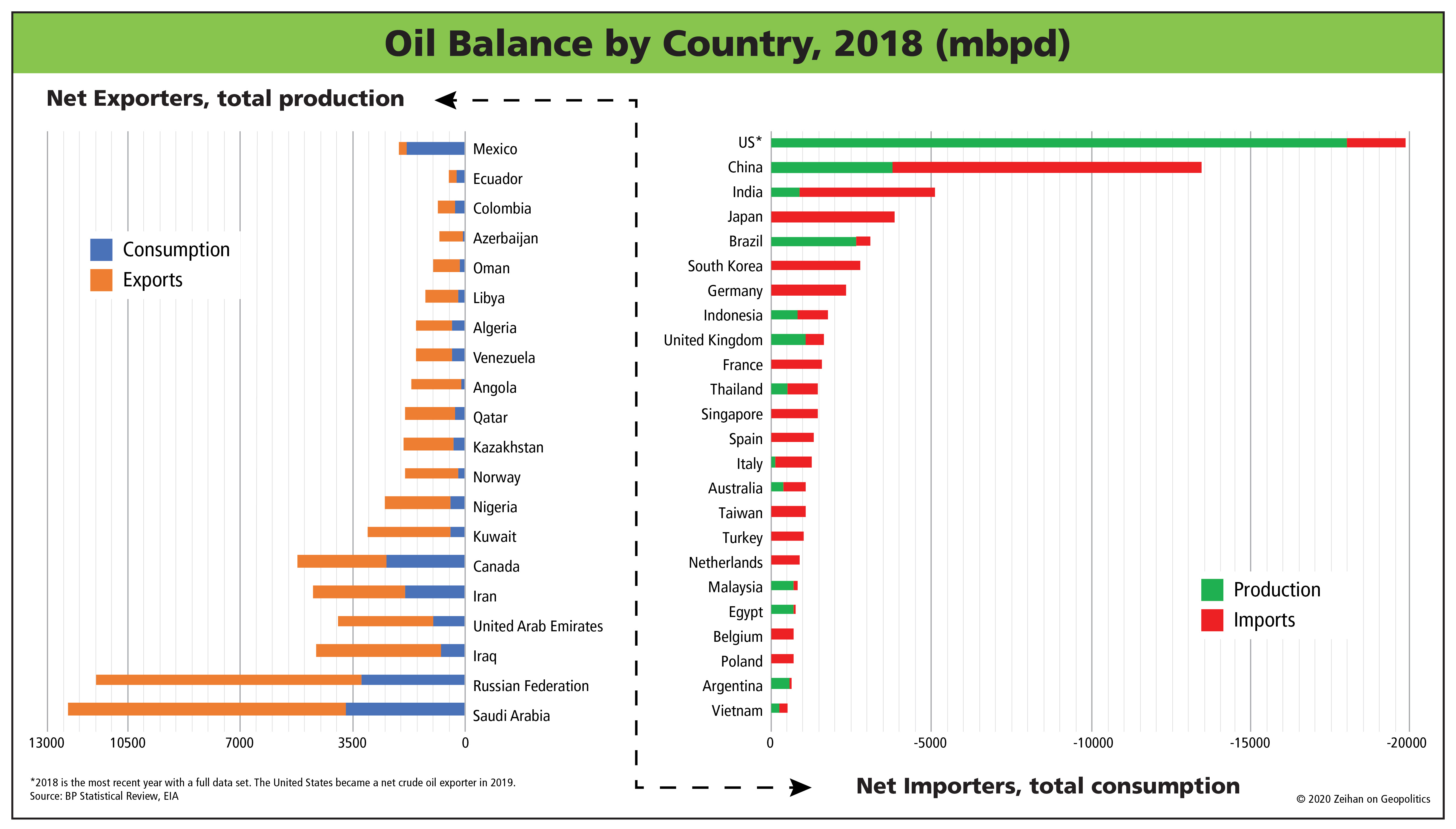 In the past, OPEC has often attempted to micromanage oil markets by adding or subtracting bits of crude. But never before have such changes occurred on anything but a multi-month time-frame, and never before have such changes shifted the balance by more than a couple million barrels at a time. Coronavirus' impact is already an order of magnitude more than OPEC's greatest action, and it all happened in just three weeks.
 
This evisceration of demand, the sheer scale of imminent producer collapse is only the beginning. Deepening economic dislocation combined with the greater regionalization of a post-COVID world means oil demand – and global energy markets – will never recover. Join Peter Zeihan April 10 for an exploration of the path forward for the global energy sector, with a heavy emphasis on which producers might be able to stay the course, and which we may not hear from for years.
[mk_button dimension="outline" corner_style="rounded" size="large" letter_spacing="1″ icon="mk-li-book" url="https://zoom.us/webinar/register/3215858488212/WN_LLm0aglvQqK1gAV4Zy0bmQ" align="center" margin_top="65″ margin_bottom="65″ outline_skin="custom" outline_active_color="#8dc153″ outline_active_text_color="#8dc153″ outline_hover_bg_color="#8dc153″ outline_hover_color="#ffffff"]REGISTER HERE[/mk_button]
Future planned invents include:
Agriculture
Transport and Supply Chains
Manufacturing
Industrial Commodities